NativeTech: Native American Technology and Art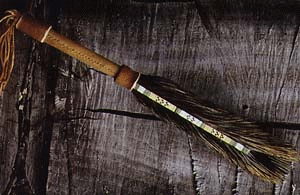 Porcupine Quillwork
Quill Wrapping on Rawhide
contributed by Nancy Fonicello
A porcupine tail hairbrush with quill wrapping on rawhide. It really works! /font>
---
Come back soon to find
instructional information on this quillworking technique!

Until then... here's a quick illustration by Tara on the technique:
---
© 1997 - Nancy Fonicello.
---
Porcupine Quillwork Bibliography and Books to Buy On-Line
Return to NativeTech's Main Porcupine Quillwork Menu
---

Text and Graphics
© 1994 - Tara Prindle
unless otherwise cited.