NativeTech: Native American Technology and Art.
TOYS MADE FROM CATTAIL
---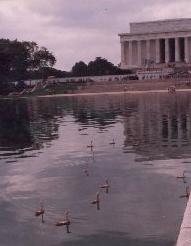 My cattail ducks floating in the reflecting pool on the Washington Mall in D.C.
[1995 One Mind, One Voice, One Heart, One Prayer Vigil]
Native Americans of the Eastern Forests used many types of plants to make toys for their children. Besides cattails, all kinds of leaves, pine needles, twigs and bark, were used to make dolls and other toys. Native Americans of the Great Lakes Region, such as the Chippewa, (or Ojibway) made several kinds of dolls and figures from cattails as well as other grasses, bark and branches. Quickly but ingeniously made, the leaves of the cattail can be folded around a stalk to make a doll just the right size to fit a child's hand.
Frances Densmore, from her work in the early 1900ís gathering information about plants on the White Earth, Red Lake, Cass Lake, Leech Lake, and Mille Lac Reservatins in Minnesota, the Lac Court Oreilles Reservation in Wisconsin, and the Manitou Rapids Reserve in Ontario, Canada writes:
"It is interesting to note the lengthened proportions of these dolls and the small bodies which were well adapted to the grasp of a little hand. This was the more advantageous among a people who moved frequently from one camp to another. In these migrations it was necessary for a child to keep possession of its own toys" (Densmore 1974). See how Toy Cattail Dolls are Made
A single cattail leaf can also be wrapped around to form tiny ducks, which because of the buoyancy of cattail, can float endlessly in water. Like split-willow figures of Western Tribes, the small ducks may have traditionally been made for hunting rituals. Historically, Chippewa made the tiny ducks for their children, often made in flocks of five and placed in a pond or puddle. Blow gently on the water and the rocking ducks look like a life-like flock. See how Toy Cattail Ducks are Made
---
Back to Cattail Background
Return to NativeTech's Main Cattail & Grasses Menu
---

Text and Graphics
© 1994 - Tara Prindle
unless otherwise cited.