Rings:
Various kinds of rings were made using sheet metal by Native Americans in the 17th century. The rings, like those worn by Narragansets in Rhode Island (Turnbaugh 1984) were probably made by forming a slender hollow tube from a long strip of thin metal, which was then bent around in a circle, and joined together by hammering the ends together to form a nearly invisible seam.
Another type of native-made ring, simply made of a flat wide strip of thin sheet metal curled around into a circle, have also been found at Fort Shantok, a 17th century Mohegan Village. Another example of a native-made ring, also found at Fort Shantok, is a thin brass strip bent into a circle, to which was riveted a square of metal (made with strip of sheet metal, that was bent and folded upon itself until the layers formed a square).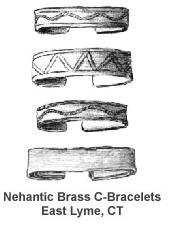 Bracelets:
One kind of Native American-made brass sheet metal bracelet is that worn by Western Niantic individuals in the 17th century in Connecticut. These bracelets are decorated with wavy line, zig-zag and hatched designs and bent into a flat 'C'-shape. The result is a metal band an at least an inch wide which grips the wrist. Similar decorated and undecorated bracelets of sheet metal were also worn by Native Americans in the New York area (Beauchamp 1903).